If you're decorating your home in the modern farmhouse style and getting ready to start painting with Benjamin Moore colors, then this one's for you!
Along with switching out accessories to fit your desired decorating style, changing up your color scheme is one of the easiest ways to spruce up your space. Which is why I'm sharing some of the top Benjamin Moore farmhouse paint colors with you.
Today, in addition to some great color suggestions, I'm going to help you choose the perfect color palette for your home, including trim and ceiling colors.
But first…what is the farmhouse style, and why is it so popular?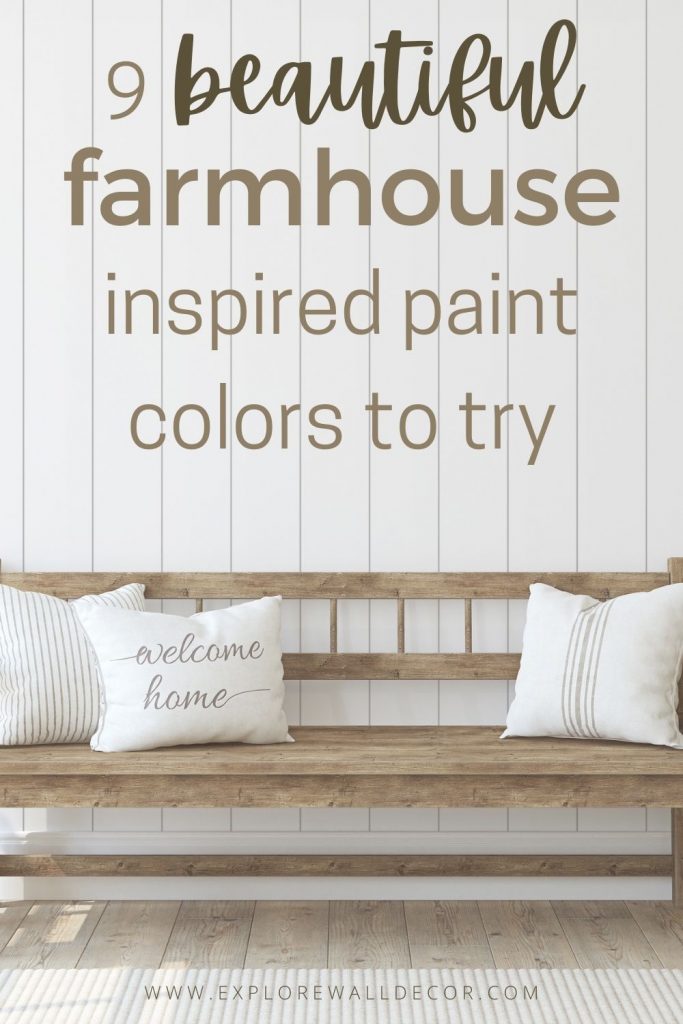 This post may contain affiliate links and we may earn commissions when you click on the links at no additional cost to you. See our disclosure policy for more details.
What is Farmhouse Style Decor (& Why Is It Popular)?
The modern farmhouse is all about simplicity: older, timeless pieces with lots of character and soft, muted hues. You'll see a lot of earth tones in this style: soft whites, greens, blues, and greiges.
In addition to earthy toned paints, you'll often see barnwood, subway tile, and shiplap on the walls, along with older, timeless pieces that hold a lot of character.
So, what's the big deal? Why is the country/farmhouse style so popular?
It's versatile and mixes well with other style decor.
The time-worn look works well for families with small children.
It gives the home a warm and comfortable feel.
These are just a few of the reasons why it's become so popular — plus, you'll frequently find farmhouse decor in both local and online shops.
Now that we understand the popularity of this timeless style, let's move on to my nine paint color picks.
*Quick note on Light Reflectance Value: LRV runs on a scale of 0% to 100%, and 50% would be a mid-value paint color. The higher the LRV, the more light a color reflects back into the room.
LRV: 91.7
Benjamin Moore's Simply White is a pure white paint color, making it highly versatile. Because it has so little undertone, it's a foolproof white, no matter your color scheme. If you're looking for a fresh, clean look in your modern farmhouse style home, Simply White is the perfect choice.
Order a sample of Simply White
LRV: 70
Pale Oak, a beautiful light neutral (slightly warmer) greige, is in the words of Benjamin Moore: "reminiscent of the majestic white oak". Pale Oak would be the perfect finishing touch in nearly any style home.
LRV: 68
A mid-toned neutral, and a popular farmhouse paint color, Benjamin Moore's Sea Haze is a soft gray with blue-green undertones. Unsurprisingly, this pretty wall color can turn either greenish (in artificial lighting) or bluish (in natural lighting).
LRV: 19.68
Part of Benjamin Moore's Historic Collection, Avon Green is a dark and muted green that would make a wonderful accent wall color. Personally, I also think it would make a great cabinet color in the modern farmhouse style kitchen.
LRV: 10.13
A rich blue paint color, Kensington Blue would look stunning in a modern farmhouse style bathroom or as an accent in the dining room — or even as a cabinet paint color. On the walls, it would really pop against white trim.
Order a sample of Kensington Blue
LRV: 55.51
Benjamin Moore's Revere Pewter is a popular warm gray with a greenish undertone. If you're looking for a warm neutral bedroom wall color, this could be a great choice.
Order a sample of Revere Pewter
LRV: 10.54
Although you'll typically find more muted hues in the farmhouse style, you can absolutely add in pops of color where appropriate. Million Dollar Red would look great on an accent wall, a console table, or even on the front door.
Order a sample of Million Dollar Red
LRV: 65.77
Gray Owl is a cool gray paint color that would work well in nearly any space. It looks light and airy during the day while turning warm and comforting at night.
LRV: 2.49
With such a low light reflectance value, Benjamin Moore's Black Satin is DARK. Naturally, it's not a color you would want to use too much in the modern farmhouse, but it's a nice, soft black paint color that would make a beautiful, dramatic accent throughout the home.
Modern Farmhouse Color Palette for the Whole House
This done-for-you modern farmhouse color palette consists of a soft white, a light gray, and a handful of bolder hues that would make great accents around the home.
In this palette:
Simply White OC-117 (order sample here)
Sea Haze 2137-50 (order sample here)
Avon Green HC-126 (order sample here)
Kensington Blue 840 (order sample here)
Million Dollar Red 2003-10 (order sample here)
Black Satin 2131-10 (order sample here)
How to Choose the Perfect Benjamin Moore Farmhouse Paint Colors
Let's go over a few things you should know about choosing the perfect Benjamin Moore paint colors for your home.
And to be honest, these tips will come in handy, no matter which paint brand you choose. Regardless of your decorating style, farmhouse or not, you'll still want to take these things into consideration.
Paint the Walls Last
Before deciding on a paint color, make sure to select all of the materials that aren't as easy to replace, such as flooring, trim, and appliances. They will heavily influence the wall color you choose — rather than choosing a paint color first and then trying to select your other materials around it.
Ask yourself:
Are the existing materials cool or warm?
What color undertones do they have?
What mood do you want to evoke?
Then you'll want to grab a sample of each color you're considering….
Buy Some Samples
You can either buy a small can of paint and a brush or roller (make sure to apply two coats!) or you can get a large stick-on sample of any Benjamin Moore paint color.
The cool thing about these samples? They're made with two coats of the ACTUAL paint, so you can see EXACTLY how it's going to look in your space. Plus, they arrive on your doorstep in 1-3 days, so you can't beat that.
Use code FIRSTFIVE for a discount on your first Samplize order!
For your convenience, I have included links directly to the samples of all color recommendations in this post. (You can find them by scrolling back up to the list, or visit Samplize to find more color ideas.)
Move Them Around
Take all of your samples and look at them vertically in each room several times throughout the day. This is often a huge eye-opener. You'll see how different each color looks in different types of lighting.
Look at them next to all of your existing materials, as well, to make sure you like how they look together.
Trim & Ceiling Colors
Assuming you're planning on painting the trim, ceiling, cabinets, and/or doors white — then for cohesiveness (and simplicity!) you'll want to use the same white color in all of these areas.
Honestly, you can even use this same white on any walls that you want to be white.
Of course, if your home has multiple levels, you can easily get away with using two different whites — one white paint color throughout each level.
And remember: You don't necessarily have to paint everything white, even in a modern farmhouse. You could choose a nice navy for your kitchen cabinets, or you could even paint the ceiling the same color as the walls.
Benjamin Moore Farmhouse Paint Colors
You don't have to live way out in the country to enjoy the charm of a farmhouse style interior — you simply have to appreciate modern-rustic decor ideas.
And if the walls in your modern farmhouse style home need a little refresh? A brand new coat of paint will make a world of a difference.
The Benjamin Moore farmhouse paint colors that I highlighted in this article would all make great choices, and (should you need a little extra help putting together a color scheme) I even provided a done-for-you color palette to use throughout the house.
So….which paint colors will you choose??
Recommended Reading:
10 of the BEST Benjamin Moore White Paint Colors for Your Interior
5 Great Options for a Whole House Color Palette by Benjamin Moore