If you're trying to come up with a whole house color palette using Benjamin Moore paints, then you're in the right place.
Figuring out a color scheme can be overwhelming, no doubt about it. There are just way too many colors and combinations to choose from. Where do you even start??
When you use too many different colors throughout the house, it can cause all of the room to feel disconnected. But when thoughtfully coordinated, your wall colors can help you achieve a cohesive feel.
Sometimes, it's just easier to let someone else help out with that daunting task. And that's what I'm here for!
In this article, I'm sharing a few Benjamin Moore color palettes that would work for the whole house, plus some pointers to help you decide on a paint color palette for your home.
Ready? Let's begin.
This post may contain affiliate links and we may earn commissions when you click on the links at no additional cost to you. See our disclosure policy for more details.
But, first…
Don't choose a color palette based on how it looks through your device's screen! Try out some samples first.
(Yeah, I know, I know! You just want to get started already.)
But remember: paint colors look significantly different on your walls than they do on your screen. And I'd feel awful if you chose a color palette without first seeing how it looks in your home's specific lighting.
So next to each of the color palettes below, I'll be sharing links where you can order peel-and-stick samples of each color (made with two coats of the actual paint). The samples arrive in 1-3 days, and you can move them around your house to see how they look in your space throughout the day.
Use code FIRSTFIVE for a discount on your first Samplize order!
By the way, they're way cheaper and more environmentally friendly than buying a can of paint, foam board, and a brush/roller. 🙂
1. Cozy Scandinavian
Love the look of a minimalistic Scandinavian interior? Have you been dying to incorporate the art of Hygge into your home?
If you're all about achieving a cozy togetherness, then this color palette could be the perfect fit. Pair it with natural materials and plenty of texture, including natural fiber rugs and chunky crocheted blankets.
This Scandinavian color palette consists of Benjamin Moore paints in a classic mid-tone gray, a sophisticated gray-lavender, a deep, earthy gray, a warm taupe, and a cool white.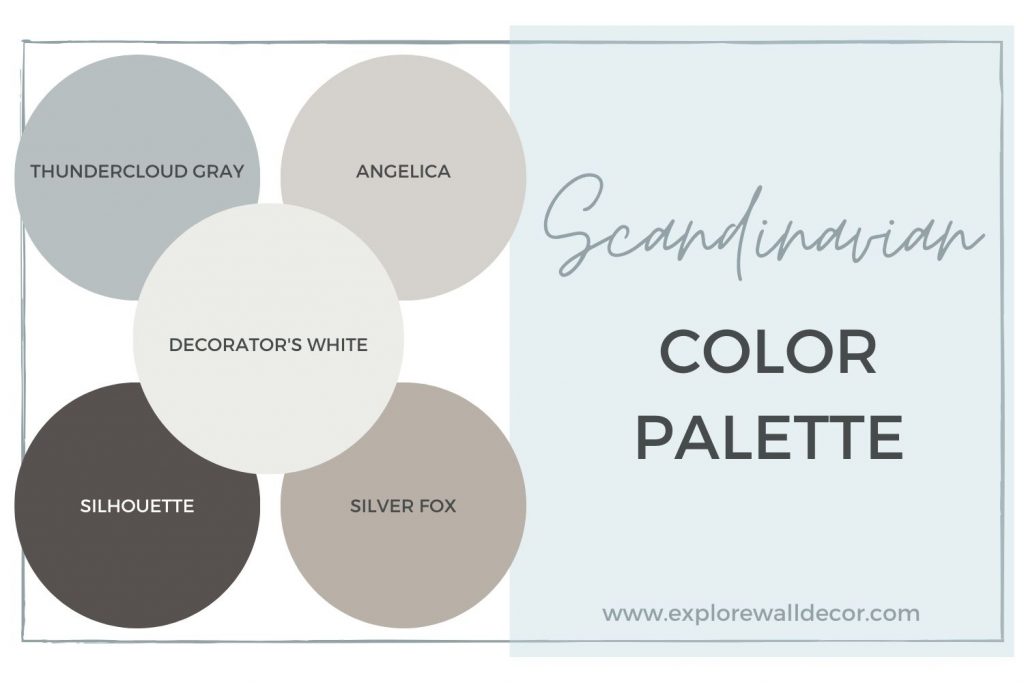 In This Paint Color Palette:
Decorator's White OC-149 (order sample here)
Thundercloud Gray 2124-4 (order sample here)
Angelica AF-665 (order sample here)
Silver Fox 2108-50 (order sample here)
Silhouette AF-655 (order sample here)
2. Soft & Feminine
The pink in this color scheme gives it a pretty — and very feminine — touch. It would be a great choice for someone who enjoys floral patterns.
When paired with clean lines, pink can actually take on a sophisticated look (as opposed to looking frilly). To avoid frilly, you'll definitely want to stay away from anything with ruffles!
This color palette consists of muted Benjamin Moore hues: a pale green with yellow undertones, a soft, airy pink that plays well with other colors, a deep, scholarly gray, a light greige, and a clean white with yellow undertones.
In This Paint Color Palette:
Simply White OC-117 (order sample here)
Wind Chime AF-465 (order sample here)
First Light 2102-70 (order sample here)
Chelsea Gray HC-168 (order sample here)
Abalone 2108-60 (order sample here)
3. Earthy Southwest
This color palette was inspired by the deserts and mountains in the Southwestern United States. It incorporates well with handcrafted textures, adobe, and exposed wood beams.
If you're nervous about putting too much color on the walls, especially if you don't have much natural light, stick with the neutrals and use the colors as accents.
This Southwest inspired Benjamin Moore paint color palette includes two versatile off-whites, a midtone greige, a refined red from their Historic Collection, and a soft, airy blue.
In This Paint Color Palette:
Atrium White OC-145 (order sample here)
Baby Fawn OC-15 (order sample here)
Driftwood 2107-40 (order sample here)
Garrison Red HC-66 (order sample here)
Palladian Blue HC-144 (order sample here)
4. Coastal Fresh
Coastal decor is hugely popular right now, and for good reason: it reminds us of warm, sunny weather and the beach.
What better reason is there than that? In all seriousness, Coastal color palettes typically consist of blues and whites with the occasional yellow or green accent thrown into the mix.
Give your home beachy vibes by incorporating plenty of natural textures — think woven baskets, bamboo shades, and linen curtains — and even some mildly weathered wood.
The Coastal color palette consists of the following Benjamin Moore colors: a light cyan from their Historic Collection, a soft yellow, a rich royal blue, a cool mid-tone blue-gray, and a versatile white.
In This Paint Color Palette:
Pure White OC-64 (order sample here)
Yarmouth Blue HC-150 (order sample here)
Rainforest Dew 2146-50 (order sample here)
Nimbus Gray 2131-50 (order sample here)
Deep Ocean 2058-30 (order sample here)
5. Pacific Northwest
Love the rustic bohemian look? Does your house have lots exposed beams and brick? Then this warm color scheme could work perfectly in your home.
When decorating in the Pacific Northwest style, you might want to add in some plaid textile patterns and midcentury furniture pieces to complete the look.
The Pacific Northwest color palette has a sophisticated beige, a mustard gold, a rich mocha hue, an earthy green from their Historic Collection, and a cool, crisp white.
In This Paint Color Palette:
White Heron OC-57 (order sample here)
Jute AF-80 (order sample here)
Mocha Madness 2100-10 (order sample here)
Marblehead Gold HC-11 (order sample here)
Great Barrington Green HC-122 (order sample here)
Related: Top 9 Benjamin Moore Farmhouse Paint Colors to Try This Year
How do I Choose a Color Palette for My Whole House?
Now that you have a few whole house color palettes in mind, how do you go about deciding which one would work best in your house? Or, will any of them work at all??
Again, you'll want to order samples of all the hues in your desired Benjamin Moore color palette so you can see what they look like in your house.
Step 1
Start out by looking at the white color with a critical eye. Move it around the house and scrutinize the undertones in each room. Will it work with all of the materials that you've already selected (or that aren't easily replaced)?
Note: This will be the white you use for any trim, insides of closets, and cabinets that you plan on painting, along with any walls that will be painted white.
Step 2
If the white looks good throughout the entire house, then you can pick and choose any of the colors that you like from the palette for your walls.
If you order the peel-and-stick samples, leave the backing on them so that you can easily move them from room to room.
Try each color out on your walls, moving them around at different times during the day. This way, you can see how they change in the different types of light.
Step 3
Finally, buy your paint and any supplies you'll need for painting your house:
– paint (here are the top 10 brands)
– rollers
– roller covers
– roller extension pole (optional)
– plastic
– spackle
– painting clothes
Pro Designer Tip: Go with a semi-gloss finish for your trim, a satin or eggshell for the walls, and flat for the ceilings. (Except when painting high traffic areas or humid spaces, such as the bathroom — read more about the best paint sheen for bathrooms here.)
Choosing Your Wall Colors
A few tips for choosing a wall color that you won't regret:
Understand color psychology and the way certain colors make you feel.
Sample, sample, sample before committing.
Understand Light Reflectance Value (LRV) — this is how much light a color reflects.
You can always go neutral and use bold accents in smaller doses.
Utilize paint color apps to visualize your desired hues on a larger scale.
Pull your paint color from a large pattern.
Let your personality shine!
Want to read more about choosing the perfect paint color? This article about how to choose a wall color expands on each of these points (and a few others).
BM Fan Decks
Not completely smitten with any of these Benjamin Moore color palettes? No worries! The schemes I just showed you are certainly inspiring, but you might rather swap one (or more) of the colors out with another.
If you want color chips of all their paints, you can grab a Benjamin Moore fan deck from Amazon. This way, you can take a look at all of their colors in real life (versus on a screen) WITHOUT running to the store.
Whole House Color Palette by Benjamin Moore
Which of these color schemes do you prefer? (Personally, it's a toss up between Scandinavian and Coastal.)
Will you choose a whole house color palette of Benjamin Moore paints from this list, or will you put together your own? Let us know in the comments below!
Read More:
Painting Walls for Beginners: How to Paint a Wall by Yourself
What's the Best Paint Sheen for Bathrooms?
9 Rules for Decorating With Plants (& the Best Varieties for Beginners)