This post may contain affiliate links and we may earn commissions when you click on the links at no additional cost to you. See our disclosure policy for more details.
Thinking about painting your walls Intense White by Benjamin Moore (but have some questions before you go all in)? 
That's totally understandable!
Let's take a deep dive into Intense White OC-51. This article will cover the LRV of this off-white paint color, along with its undertones, color family, some complementary color suggestions, and a whole lot more!
Without further delay, I'm just going to jump right in.
What is the LRV of Benjamin Moore's Intense White?
Intense White is an optic white with a LRV of 73 and resides in Benjamin Moore's off-white collection. In case you haven't heard this term before, LRV stands for Light Reflectance Value, and it measures the percentage of light a paint color reflects.
LRV runs on a scale from 0% – 100%, 50% being the mid-value paint color. The higher the LRV is, the more light that color will reflect back into the room.
A LRV of 73 isn't terribly high, so it's not a bright white, but more so an off-white paint color.
Just an FYI: Most companies print the LRV on the back of their paint chips, in case you ever need to know the LRV of a color.
Intense White Undertones
Benjamin Moore's Intense White is an off-white with warm gray and very slight green undertones. It's pretty flexible in that it looks nice with various grays and can even be paired with other, cleaner whites, if desired.
Does Intense White Look Green?
As we've already established, it's a warm, off-white with green undertones – so does that make Intense White look super GREEN green?
Not necessarily, but because Intense White has a definite green undertone, it can look more or less so, depending on various factors, including the room's lighting and colors of the furnishings.
North facing light could particularly bring out the green in Intense White.
The green and gray undertones help to give this off-white paint color a warmer feel, and could be a nice complement in a room with a warm color scheme.
Is Intense White Warm or Cool?
This is definitely not an icy white! Intense White is an off-white with green and warm gray undertones, making it a warm paint color. Because it's so versatile, it looks great in nearly any room in the house, from the bedroom to the living room.
Where Can I Get Samples?
What's the best way to avoid paint buyer's remorse? Always, always try out samples before committing!
And the best way I've found to do that is to order a 12"x12" peel-and-stick sample from Samplize.
Use code FIRSTFIVE for a discount on your first Samplize order!
Here are a few things to love about these samples:
You can easily move them around from room to room.
They cost MUCH less than traditional sample pots, brushes/rollers, and foam board.
They are more environmentally friendly.
Plus, they arrive at your doorstep in just 1-3 days, which means no more running out to the store for samples (and then going back when you don't like how they look in your space). You can't beat that!
Grab a sample of Intense White right here.
What Colors Go With Intense White by Benjamin Moore?
Lighter whites and grays pair well with Intense White. Warm navy colors and greens could work nicely, as well.
I would suggest avoiding super cool color palettes and whites with icy undertones, or this muted off-white could end up looking dingy.
Similar Benjamin Moore Paint Color – A Comparison
Wondering if Intense White is right for your space, or if a similar hue would work better? Let's compare it to another neutral Benjamin Moore paint color.
Classic Gray 1548, like Intense White, is a warm off-white with subtle green undertones. However, its soft, muted undertones are decidedly more feminine – sometimes pulling slightly purple and even pink.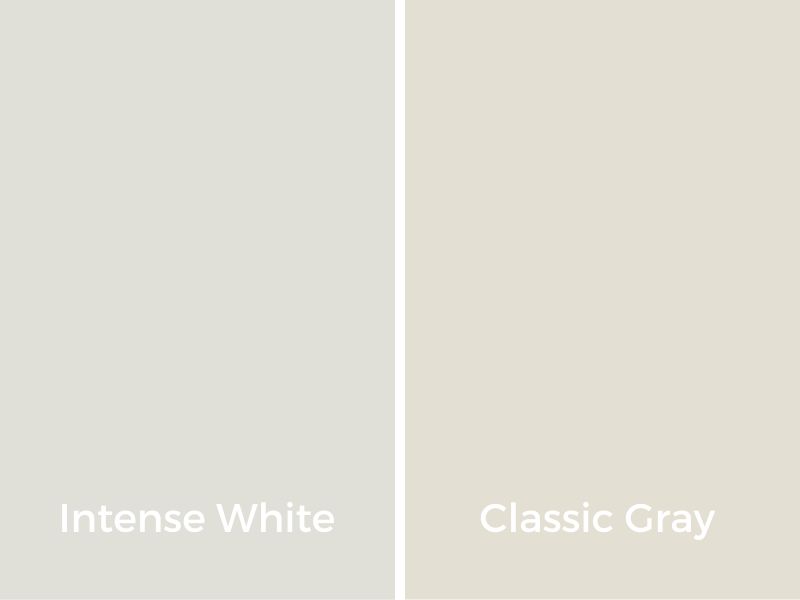 Grab a sample of Classic Gray right here.
Trim Colors
As we already discussed, Intense White goes with lighter whites, like Simply White and Chantilly Lace. You could also paint the trim in Intense White – just go a little shinier with the finish if you want to give it a bit of dimension.
Now that you have a better understanding of Benjamin Moore's Intense White and some ideas for using it in your home, what are your thoughts? Do you think this warm off-white would be a good fit for your home?
You might also enjoy:
Best Paint Color for a Dark Hallway: 11 Non-White Options
How to Choose One Paint Color for the Whole House (Plus 21 Great Color Suggestions)