When it comes to dark rooms, and especially dark hallways, white tends to be the default wall color. And if you're hoping to avoid white? Finding the best paint color for a dark hallway is no easy feat.
Kick back and relax, my friend, and let me put your fears to rest. You don't have to revert to painting your dark, narrow hallway white.
I repeat: you DO NOT have to paint it white.
And if your hall is already white, but it's simply too stark for you, then I'm going to help you find an awesome, non-white paint color to liven it up.
This post may contain affiliate links and we may earn commissions when you click on the links at no additional cost to you. See our disclosure policy for more details.
Hallway Paint Color Recommendations
In a hurry? For those of you who are just here for the color names, I wanted to get right to it. Here are my recommended paint colors for hallways and staircases.
2. Clare Paint Wing It
3. Clare Paint Timeless
6. Benjamin Moore Classic Gray
8. Benjamin Moore Revere Pewter
10. Clare Paint Chill
11. The Spruce Cosmic Sapphire
Don't worry, we'll go over each of these hues in more detail shortly.
But First, a Few Considerations…
I know, I know. It's just a hallway. Right? What more could there be to consider?
Sure, you could just pick one of the colors I suggest and call it a day.
BUT….
You're here reading this article, so I'm gonna assume you actually care about the vibe your hallway gives off.
Yes, there actually ARE other things you might want to consider before painting your walls.
Such as:
the other colors in your house
the flooring material and color
the trim (baseboard) color
the amount of light (natural or artificial)
any decorations you want to use
First of all, you'll definitely want to consider the trim and flooring colors, and whether you want to create a high contrast look vs. low contrast.
For example, lighter colors paired with white trim are going to be low contrast. When paired with darker trim, lighter colors will create a high contrast look.
This photo is a good example of low contrast between the wall and trim colors, although the flooring is slightly darker and creates a little bit of contrast.
I always suggest painting last, so if you still need to buy artwork, frame photos, or add a runner/rug, you will want to do so now. Then come back and choose a color that works well with them.
Paint Samples
Finally, the best way to choose a wall color you won't regret is to sample a few of your top choices.
You can either buy a small can of paint and brush or roller (make sure to apply two coats!) or you can get a large stick-on sample from many paint brands — including Sherwin-Williams and Benjamin Moore.
The cool thing about these samples? They're made with two coats of the ACTUAL paint, so you can see EXACTLY how it's going to look in your space. Plus, they arrive on your doorstep in 1-3 days, so you can't beat that.
For your convenience, I have included links directly to the samples of all my SW and BM color recommendations, but here is a link to Samplize in case you can't wait to check them out.
Use code FIRSTFIVE for a discount on your first Samplize order!
How Can I Brighten a Dark Hallway Without Windows?
While choosing the right paint color can help lighten up a dark hallway, it cannot do that on its own. So, how can you brighten it up when there are no windows?
Add more artificial light! It might sound obvious, but without enough lighting, you're simply going to have a dark hallway.
Consider painting the trim and doors white to help brighten it up.
Consider replacing the flooring with something lighter and brighter. Or, add a runner if changing the flooring isn't an option.
Strategically place a decorative mirror in the hallway to reflect light from another room.
Avoid hanging pictures on both sides of a narrow hallway.
Don't worry, we'll do a deep dive into some of these points later on in this article. But first, I'd like to get back to the thing you're really here for — the paint colors.
Can You Paint a Hallway a Dark Color?
Yes, absolutely! You can paint your hallway any color you like, including dark or bold colors.
In fact, hallways are often the perfect place to experiment with "moody" colors, since they're often dark anyway. If you stick with white, you'll end up with a dark and BORING hallway.
But if it suits your personality and your design style, then there's nothing wrong with choosing a dark paint color. You can either create a high contrast look by pairing navy walls and white trim, or low contrast with darker trim.
The majority of my paint color suggestions are lighter colors that will help brighten up a dark hallway, but there's nothing wrong with going dark if that's what you prefer.
Pro designer tip: If you want to try a bold color, but your hallway is long and narrow, consider painting an accent wall at the end using a bolder hue to help bring it in a bit.
What's the Best Paint Color for a Dark Hallway?
Now, for the lowdown on each of my paint color recommendations. Definitely try samples of the colors you like, since they usually look a little different on a screen than in real life, and various factors will affect how they look in your own hallway.
Please note that The Spruce doesn't seem to offer samples, so if you choose to order a color you like from Amazon, you might want to start with just a gallon and paint a few sample spots to see how it looks before committing.
The Spruce Best Home by KILZ Minimalist Look SPR-21 is a warm light gray.
Recommended finish: Satin
Want to try it out in your own home? You can order Minimalist Look on Amazon.
2. Clare Paint Wing It
A pale, sophisticated, barely there pink, Clare's Wing It "is inspired by our favorite all-ladies social club that made pink our new favorite neutral".
Recommended finish: Eggshell
3. Clare Paint Timeless
The off-white you've been searching for that no one's ever managed to nail. (Until now.) With creamy undertones, Clare's Timeless envelops your space in warmth and reflects light beautifully.
Recommended finish: Eggshell
Not quite white, Sherwin Williams Creamy SW 7012 is a warm, off white cream color.
Recommended finish: Satin, Eg-Shel, Pearl
Want to see how it looks in your home? Grab a sample of Sherwin Williams Creamy here.
The Spruce Best Home by KILZ Macrame Beige SPR-05 is a light beige with a subtly peach undertone.
Recommended finish: Satin
Want to try it out on your walls? You can order Macrame Beige on Amazon.
BM Classic Gray OC-23 is a light warm gray with subtle green undertones, and can even take on purplish undertones in cooler light.
Recommended finish: Eggshell, Pearl, Satin
Want to try it out? You can order a sample of Classic Gray here.
BM Gray Owl OC-52 is a stunning light warm gray that is one of the most versatile paint colors out there.
Recommended finish: Eggshell, Pearl, Satin
Love this color but want to try it out first? Grab your sample of Gray Owl right here.
A light gray with warm undertones, BM Revere Pewter HC-172 is a classic shade that creates a unifying look that calms and restores.
Recommended finish: Eggshell, Pearl, Satin
Want to try it out in your home? Grab a sample of Revere Pewter here.
The Spruce Best Home by KILZ Breezy Beach SPR-12 is a muted baby blue.
Recommended finish: Satin
Love this color? Click here to order Breezy Beach on Amazon.
10. Clare Paint Chill
Because everyone needs to relax. Clare's Chill is a soft, cool, barely there gray with a slightly green undertone. Light, airy, and calming – an excellent antidote to a long day.
Recommended finish: Eggshell
The Spruce Best Home by KILZ Cosmic Sapphire SPR-18 is a deep bold navy.
Recommended finish: Satin
Love this bold navy color? You can shop Cosmic Sapphire on Amazon.
Don't see a color that's quite what you're looking for? Grab a Sherwin Williams fan deck or a Benjamin Moore fan deck of paint colors from Amazon for more ideas.
Read more: How to Choose a Wall Color That You Won't Instantly Regret
What is the Best Lighting for a Hallway?
The type of lighting is only one factor to consider. More importantly, do you have enough lighting in your hallway?
If you're able to add them, recessed ceiling lights are a great, unobtrusive choice.
Flush mount lights are also a good option, along with semi-flush. There are plenty of stylish options that would look great while giving plenty of light. However, if the hallway is really long, you'll probably want at least a couple of them.
Pendant lighting and chandeliers are best kept to hallways with high ceilings, but they also work well in a transition area or a hallway between two living spaces.
On the other hand, if you're aiming for a "moodier" ambiance, wall sconces might work well in your hallway.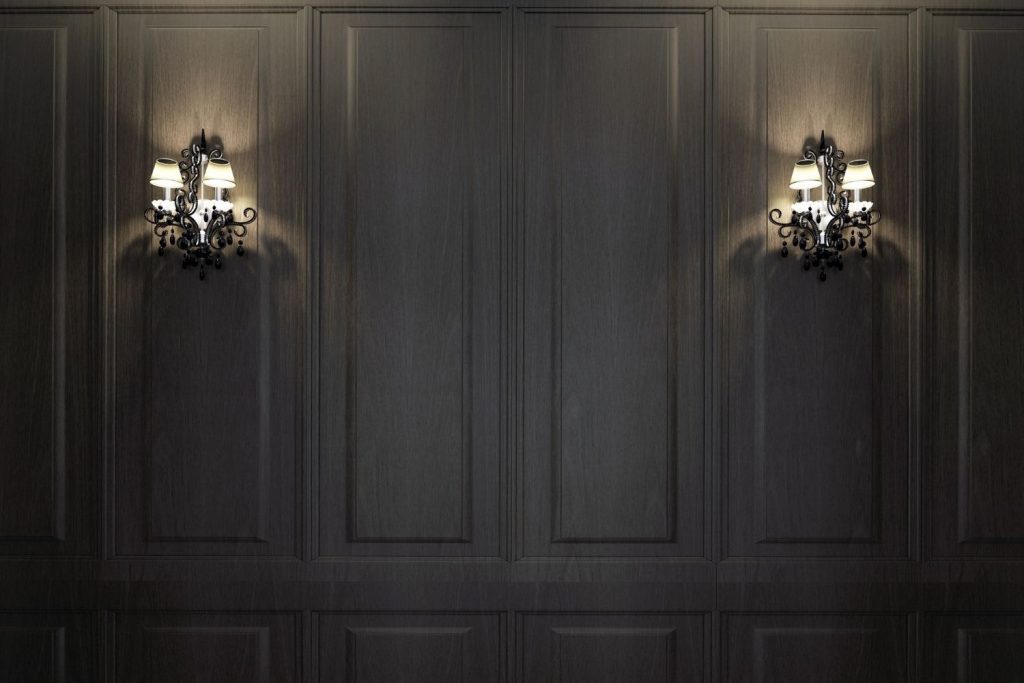 And if changing up your electrical wiring just isn't a possibility right now? Consider adding some floor lamps or, if you have room, a small table with a lamp on it. A couple of lamps should help to significantly brighten up your dark hallway.
Remember, paint color is just one factor — the amount of lighting in your hallway, whether it's natural or artificial, will make all the difference.
How Do You Decorate a Small Hallway?
Here are a few ideas.
Artwork
A hallway is the perfect place to display artwork. You could even create a home "art gallery" by placing a row of artwork along one of the walls. Just avoid placing it on both sides of the hallway if it's really narrow, otherwise it could start to feel cluttered.
Gallery Wall
Create a gallery wall on one side of the hallway or along the staircase. You can get a cohesive look by spray painting all of your frames with the same color of paint (which doesn't necessarily have to be white!). Maybe even consider printing your photos in black and white.
Mirrors
You've probably heard that mirrors reflect light, making a small room appear wider and brighter. This is true — however, you'll definitely want to be strategic with the placement in your hallway.
If you have a long, narrow hallway, you will want to avoid placing a full-length mirror at the end. It'll appear twice as long, but will still look just as narrow.
Instead, you can "bring it in" with an accent color and a fun accent mirror at the end of the hallway.
Stripes
Vertical stripes can create an optical illusion, giving the appearance of height to a lower ceiling. If you don't want to hand-paint the stripes onto your walls, wallpaper is a great alternative.
Window Treatments
If you have a window in your hallway, add a pop of color and some visual interest with patterned curtains or shades. If the hallway is really dark, be sure to open the shades and let in some light, or stick with valances for the pop of color without blocking out too much natural light.
Rugs and Runners
In a drab, chilly hallway, you can warm it up (both visually and physically!) with a cozy rug. Either brighten it up with a lighter color, or you can bring in some interest with a pattern. Neither option is wrong!
Final Thoughts on the Best Paint Colors for Dark Hallways
For some reason, the hallway is often overlooked when it comes to decorating. But it doesn't have to be a drab, boring pathway that simply leads you from one living space to the next.
Brighten it up or add some drama — whatever suits your taste. Just know that IT DOES NOT HAVE TO BE WHITE!
So… what's the best paint color for YOUR dark hallway??
What's Next?
Once you've sampled and purchased the perfect paint color for your hallway, it's time to get busy painting.
Never painted before? No worries! Read this guide to painting walls for beginners.